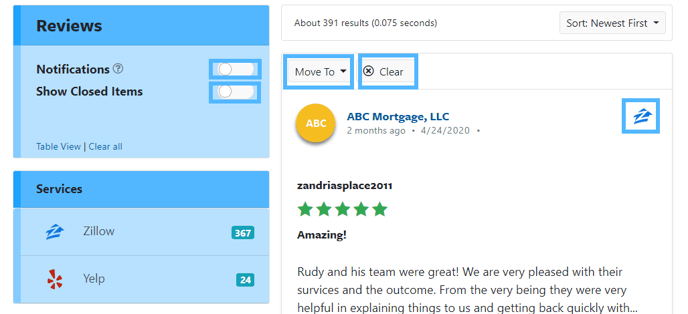 On the review management page, you and your team can easily isolate your 5 star reviews for re-posting to generate business! On the other hand, you can isolate those lower stared reviews to address them on or off the social media platform.
Use the platform icon to visit the post itself, or use the Move To feature to put in a Collection Folder for further review with your team.
If you feel the review needs no action, you can simply use the Clear button to remove it from the pipeline. But don't worry -- it's not gone forever! ActiveComply will store the content in your archive. To see the Cleared item again, simply switch on the Show Closed Items Toggle.
Turn on the Notifications toggle to have an automated email sent to your inbox every time a review is posted.