As social media Assets are enabled in the Discovery pipeline, profiles are scanned for profile checkup items and content for watchlist words. These social media accounts are also scanned for identifying information for a licensed employee. The system will look for a licensed employees legal name and personal license number to automatically assign the social media account to the licensed employees Contact Card.
Before corrective action can be issued through the Tickets system, ActiveComply users must ensure that all social media assets are tied to the applicable licensed employee's Contact Card. The ActiveComply system automatically associates the majority of social media Assets to Contact Cards if a licensed employees information is found on the social media profile. The system cannot automatically associate all social media profiles (examples including branch pages, team pages, LOs who use nicknames, etc.) and ActiveComply users will need to manually associate the remaining social media with the correct Contact Card.
Locating Assets That Still Need a Contact
To do this, users can visit the Assets page under the gear icon on the top right. Select the Views filtering tab at the top and select No Contact Assigned. These are the number of accounts still needing to be assigned to a Contact Card/licensed employee. To do this, users can click on the name of the social media account to assign it to their Contact Card. Not all social media will have a Contact Card/licensed employee to associate to, such as corporately controlled accounts where the institution, and not a licensed employee, will be applying the corrective action.
Please note that social media will need to first be associated with licensed employees before corrective action can be issued through the Tickets feature or a full social media export will be possible for state audits.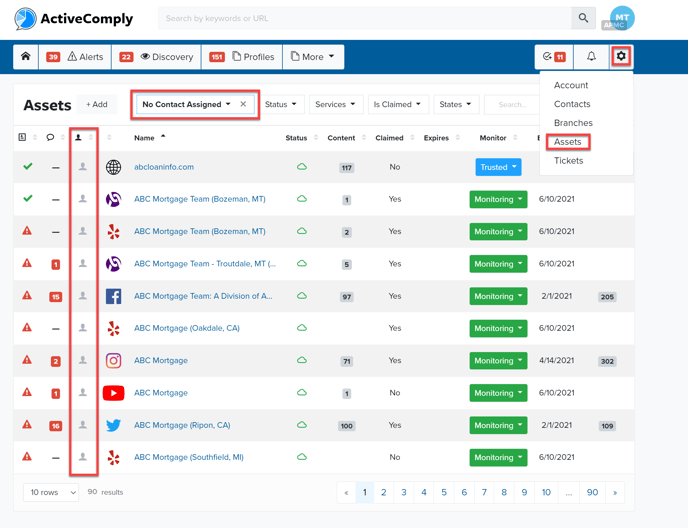 Why Assign Assets to Contact Cards
Assigning Assets to their respective licensed employee's Contact Card ensures a few things within the ActiveComply system:
All social media Assets are included in state-by-state audit exports
Individual profile triggers, like Individual NMLS ID Missing, are applied
Corrective action can be issued to the correct employee through the Tickets feature
Each licensed employee's social media presence can be audited in full directly from their Contact Card page